Player Profile Detail
#6 Hannah Kohn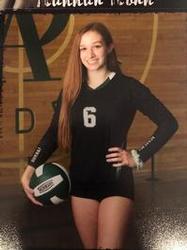 Contact Info
Email: Click to email
Home Phone: 636-226-5399
Mobile Phone: N/A
Snapshot
Team: 15 Diamond
Position: L/DS
Primary Hand: Right
Primary Foot: Right
Standing Touch: 7' 2"
Approach Touch: 9' 3"
Block Touch: 9' 0"
Academics
Graduation: 2023
School: Durham Academy
GPA: 4.00 out of 4.33
SAT: N/A
ACT: N/A
Vitals
DOB: Aug 19, 2004
Height: 5'9
Weight: N/A
References
There are no references associated with this profile.
Videos
There are no videos associated with this profile.
Athletic Accomplishments
In 2018, Hannah was a six rotation starting outside hitter for her High School Varsity team, Durham Academy, during her 8th grade year. The varsity high school team competed in the final four state championship, for the first time in 22 years.
Hannah played on 14 Diamond, the top 14s team, in 7th grade, and 13 Crystal while in 6th grade. Hannah began playing club volleyball in 4th grade.
Hannah also competes in Beach tournaments and recieved bids in 2017 and 2018 to attend Nationals in Beach volleyball.
Other Accomplishments
Hannah Kohn does not have any other accomplishments listed.