Player Profile Detail
#2 Jordyn Dailey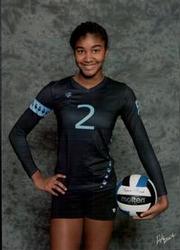 Contact Info
Email: N/A
Home Phone: 919-529-4543
Mobile Phone: N/A
Snapshot
Team: NC Volleyball Club 15U Diamond
Position: Middle Hitter/Blocker
Primary Hand: Right
Primary Foot: Right
Standing Touch: 7' 1"
Approach Touch: 9' 11"
Block Touch: 9' 4"
Academics
Graduation: 2023
School: NC Academy for Learning and Enrichment
GPA: N/A
SAT: N/A
ACT: N/A
Vitals
DOB: Jul 28, 2005
Height: 6'2
Weight: N/A
References
There are no references associated with this profile.
Videos
There are no videos associated with this profile.
Athletic Accomplishments
Jordyn Dailey does not have any athletic accomplishments listed.
Other Accomplishments
Jordyn was recently accepted into the Granville County Early College High School program. This will enable her to graduate with the high school diploma and an Associates Degree in the Arts or Science. We are excited about this academic opportunity.