Player Profile Detail
#17 Morgan Metelo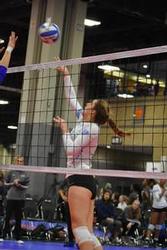 Contact Info
Email: Click to email
Home Phone: 484-889-8328
Mobile Phone: 484-889-8328
Snapshot
Team: N/A
Position: Middle Hitter/Blocker
Primary Hand: Right
Primary Foot: Right
Standing Touch: 7' 6"
Approach Touch: 9' 5"
Academics
Graduation: 2021
School: Wakefield High School
GPA: 3.8
SAT: N/A
ACT: N/A
Vitals
DOB: Nov 27, 2002
Height: 5'10
Weight: N/A
NCAA ID: 1803160942
References
There are no references associated with this profile.
Videos
There are no videos associated with this profile.
Athletic Accomplishments
City of Oaks 16 open Champions
NC Academy regional tourament 16 champions
Liberty Belles regional tourament 14 champions
Wakefield High School JVA 2017 (starter)
Wakefield High School JVA 2018 (starter)
Liberty Belles volleyball club 14 regional (starter)
Raleigh Volleyball club 15 national (starter)
Other Accomplishments
Lamp of Knowledge Award
FCCLA- April 2019 winner of North Carolina State competition for food innovtion.